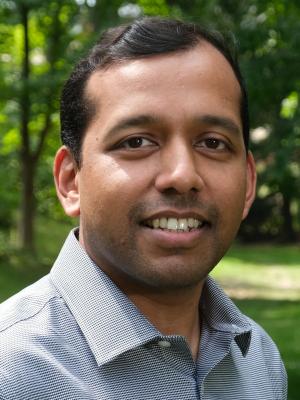 Photo Credit: S. Scott Whitmore
Adnan hails from London, United Kingdom, and joined the lab as a Fulbright Visiting Scholar, supported by the US-UK Fulbright Commission in August 2023. He is a clinician-scientist in ophthalmology, with a medical degree from University College London (UCL) Medical School and an intercalated PhD in Transplantation Immunology from Imperial College London, supervised by Andrew George and Giovanna Lombardi. Adnan's PhD investigated the genetic modification of dendritic cells for the induction of Treg-mediated, antigen-specific tolerance. He has further post-doctoral experience with Kathryn Wood at the University of Oxford's Transplantation Research Immunology Group (TRIG).
Clinically, Adnan underwent ophthalmic surgical training in Aberdeen and Southampton, United Kingdom. He was a National Institute for Health Research (NIHR) Clinical Lecturer in Ophthalmology at the University of Southampton from 2019-2023, working with Andrew Lotery. He has also completed ophthalmic sub-specialty fellowships in uveitis (intraocular inflammation) and retina, including immunosuppression training with Carlos Pavesio, Robin Hamilton and Catherine Egan at Moorfields Eye Hospital, London.
He is thrilled to be working with the laboratories in the Institute for Vision Research, with its world renowned partnership with the Iowa Lions Eye Bank.