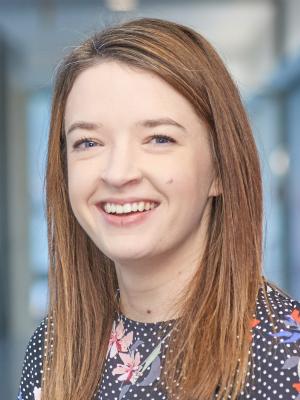 Photo Credit: S. Scott Whitmore
Kelly graduated with a Bachelor of Arts degree with a moderatorship in Genetics from Trinity College Dublin in 2012.
After graduation, she worked as a Research Assistant at Trinity College Dublin, in the laboratory of Dr. Sarah Doyle, investigating the role of IL-18 in Age Related Macular Degeneration.
In 2014 Kelly began pursuing her PhD in the laboratory of Dr. Sarah Doyle at Trinity College Dublin. She received her PhD in Clinical Medicine from the Department of Clinical Medicine, School of Medicine at Trinity College Dublin with the dissertation, "Investigating A Role for TLR Signaling and Complement Deposition in Retinal Degeneration" in 2018.
Kelly joined the lab in October 2018 as a Postdoctoral Research Scholar supervised by Dr. Robert Mullins and Dr. Budd Tucker. The focus of her research is on the role of choriocapillaris in early AMD pathogenesis and investigating methods to rescue or replace choroidal endothelial cells.