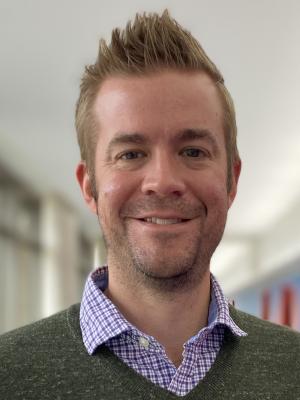 Department of Ophthalmology and Visual Sciences
Luke (he/him) graduated with a Bachelor of Science degree in Bioengineering from the University of Illinois in 2002.
Luke obtained his PhD in Molecular, Cellular and Systemic Physiology in 2007 from Southern Illinois University.
Luke completed two different postdoctoral fellowships at Washington University in St. Louis, the first in mouse eye anterior segment genetics under the mentorship of Dr. David Beebe and the second in retinal immunology with Dr. Raj Apte.
Dr. Wiley entered the field of scientific research because of a strong desire to contribute to larger and meaningful research on inherited diseases. As such the collaborative team research approach at the University of Iowa Institute for Vision Research (IVR) was the perfect place for him. Luke joined the IVR in 2013 as an Assistant Research Scientist in the labs of Dr. Budd Tucker and Dr. Robert Mullins focusing on the use of human induced pluripotent stem cells for disease modelling and development of therapies for inherited retinal degenerations.
Since 2016 Luke has worked under the continued mentorship of Drs. Tucker and Mullins as a Research Assistant Professor with an emphasis on the development and characterization of novel models of inherited retinal degeneration and assessment of the efficacy of gene and stem cell-based therapies to mitigate disease in these models.